Residence: Who we are
In 2014, La Salle Bonanova celebrates its 125th anniversary.
In the 70's, boarding students and University residents lived together. The 1982-83 course boarding school closed and the following course 1983-1984, with Brother Palom as a director of La Salle Bonanova, founded the university residence La Salle Bonanova, with Brother Mas as director of the residence. It belongs to the Institute of the brothers of the Christian schools (La Salle), the character of this institution.
The residence is made of eight pavilions, lodged up to 208 students in a year. Afterwards, the remodeling works have reduced capacity until the current 177 beds.
Our ongoing service 24 hours a day, 7 days a week. Residents are accompanied by our employees in their personal and academic development with full respect for their privacy and independence.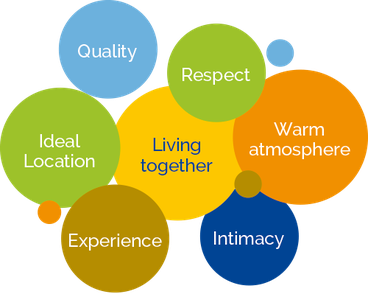 Also offers accommodation to individuals or groups, especially during holiday periods. Quality and proximity in the attention to guests define the wide range of services offered. The Residence allows its users enjoy their stay in such a way that the atmosphere, respect and familiarity will facilitate the achievement of its objectives.
About our residents
Check if your city appears in our map. If not... 
 Do you want to become the first one to point your city in the map?
Universities in which our residents study

|   |   |   |   |   |   |   |   |
| --- | --- | --- | --- | --- | --- | --- | --- |
| 40,14% | 18,30% | 9,15% | 8,45% | 7,75% | 5,63% |   |   |
Time spent at our Residence
Many of them are new
arrivals to Barcelona
(1 year)
48,45%
Some of them
like to repeat
(2 years)
32,30%
And others finish
their studies with us
(3 or more years)
19,25%